They called him "Red."
<![if !vml]>
<![endif]>
Disney 20,000 Leagues Stunt Diver Brendan O'Connor.
BRENDAN O'CONNOR was born and raised in Hollywood, California, 1926.  In his youth (according to his family) he loved water sports, was an avid swimmer, and won competitions for bodysurfing.   As a young man, Brendan served in the United States Navy.  He became a world traveler; visiting such places as France, Tripoli, and Morocco.  Besides English, he also spoke French and Italian. 
In the early 1950's, Brendan's love of the sea led him to Ellis Royal Cross' Sparling School of Deep Sea Diving in Wilmington, California.  There, he trained with and became certified to dive the conventional "hardhat" diving apparatus.
<![if !vml]>
<![endif]>
E.R. Cross learned to dive the MkV helmet diving dress in 1947 while in the United States Navy.  He opened the Sparling School after his discharge from the military and went on to earn significant recognition in the hardhat and SCUBA diving communities during the years that followed.  Today, he is considered a forerunner and innovator in the genre.
<![if !vml]>
<![endif]>
E.R. Cross
The Sparling School was considered the best in California because it had modern equipment, knowledgeable instructors, and a demanding training schedule.  Stressing hands-on training under rigorous conditions, obstacles like low visibility underwater were seen as beneficial; preparing the student diver for conditions he would no doubt encounter at some point in his career.
<![if !vml]>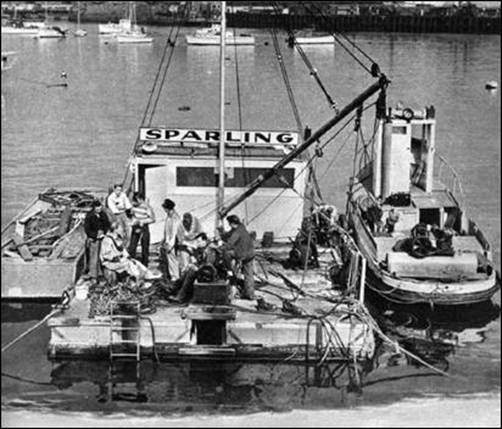 <![endif]>
The Sparling School also offered training in underwater burning and welding; courses that attracted experienced commercial divers seeking certification in those job skills to improve their marketability.  By the latter half of 1953, students pursuing that goal included ex-Navy diver Bill Stropahl, Canadian commercial diver Leonard Mott, and Brendan O'Connor.
<![if !vml]>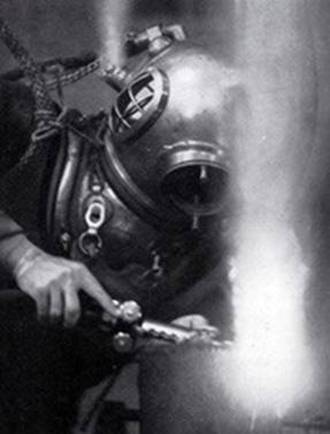 <![endif]>
In this next image, we see three Diver Tenders preparing E.R. Cross to dive a MkV helmet rig at the Sparling School.  The gentleman in the right foreground (with the lighter hair and dark sunglasses) is Brendan O'Connor.
<![if !vml]>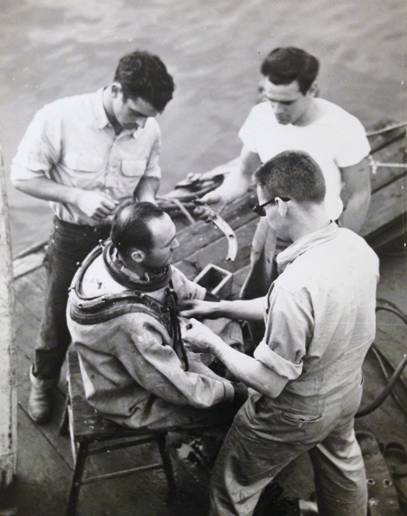 <![endif]>
Acting as Disney's Divemaster in late 1953, Manfred "Fred" Zendar contacted E.R. Cross at Sparling seeking qualified people to serve as stunt divers for Disney's forthcoming 20,000 Leagues Under the Sea.  Among those on hand and recommended at the time were Bill Stropahl, Leonard Mott, and Brenden O'Connor.
<![if !vml]>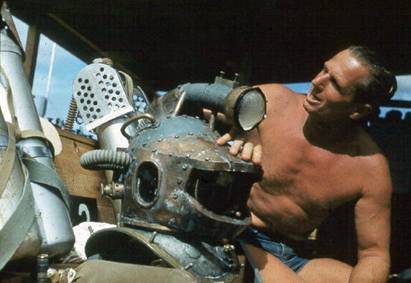 <![endif]>
Divemaster Fred Zendar with the Nemo helmet, Lyford Cay, 1954.
Here we have a picture of Brendan O'Connor's actual certification card from the Sparling School of Deep Sea Diving.  According to his family, this card includes the underwater burning and welding certification also shared by Stropahl and Mott.  This card certifies the diver to a depth of 210 feet.  What I find most interesting about it is the date of issue: the last day of December, 1953.  That stands out because, one day later on January 01, 1954; 212 crates of diving gear and the Disney underwater film crew arrived in the Bahamas and headed to Lyford Cay on the island of New Providence.  So we know Brendan had fresh certification in his wallet when he flew to the Bahamas to film Leagues.
 <![if !vml]>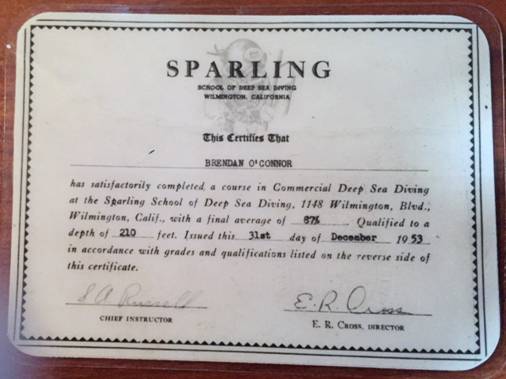 <![endif]>   
Aboard the Disney dive vessel, the stunt divers were frequently called upon to pose for the cameras.  They were a chummy bunch and often referred to each other by nicknames.  Manfred Zendar was better known as Fred, Leonard Mott was often called Lenny, and Brendan O'Connor was called "Red" because of his auburn hair.
<![if !vml]>
<![endif]>
Brendan O'Connor, (name pending), Bill Stropahl, and Leonard Mott.
The film crew, safety divers, technicians, and stunt divers were all trained in basic hand signals to coordinate their actions underwater where communications were limited.  Seen on the left in the back row is Aqua Lung technician #1 Dick Anderson.  Brendan O'Connor is wearing the white T-shirt.  In front of Brendan (looking down and toward the right side of the picture) is Florida diver Charlie McNabb; behind (looking over Brendan's raised arm) is Len Mott.
<![if !vml]>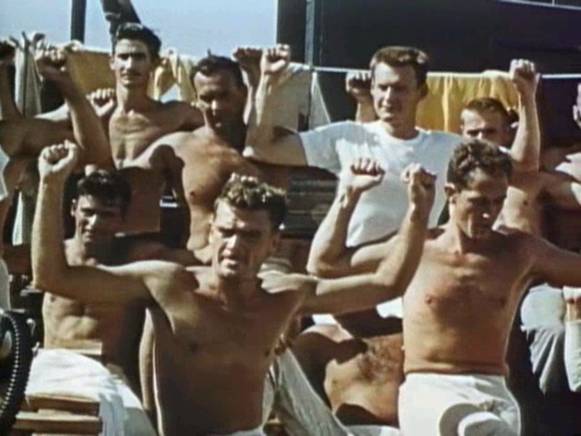 <![endif]>
Brendan O'Connor in white T-shirt.
Here's a look at the action in the outfitting area of the Disney dive vessel.  We see a shirtless Len Mott tending a seated Al Hansen at the end of the bench. 
Ricou (Creature from the Black Lagoon) Browning is standing as Tender for a diver he's identified as Frank Denblacker.  That name isn't listed in Disney's credits or in the IMDB and is pending confirmation, but he's not the only one I've found and am working on at present.
Next to Denblacker is Brendan O'Connor, being tended by Bill Stropahl, kneeling.
Notice Brendan's helmet is marked with a numeral "3" on the crown knob.  This picture was taken very early in January 1954; among the first dives that were made.  Later on, the numbers were removed and permanent positions assigned on the benches. 
On the starboard bench with his head under a white towel is the Captain Nemo diver Dave Rochlen in the #1 outfitting station.  Brendan, on the port side, is in the #8 station; established later on as filming progressed and things became better organized. 
<![if !vml]>
<![endif]>
In this photo, I can identify Len Mott, Bill Stropahl, and Brendan O'Connor.  At the time of this writing, I have reason to believe the other two divers with them may have also come from the Sparling School, and am looking into that.  I will amend this paragraph in light of new information in the future.
<![if !vml]>
<![endif]>
Next, with the aid of an unidentified safety diver, Fred Zendar is using a chalkboard to diagram the next dive for the participants.  On the bench from left to right are Dave Rochlen, Brendan O'Connor, Len Mott, Ed Stepner (unverified), and another I can't recognize.  Wearing his red Santa Monica Lifeguard swim trunks is Disney Stunt Diver Norm Bishop.
<![if !vml]>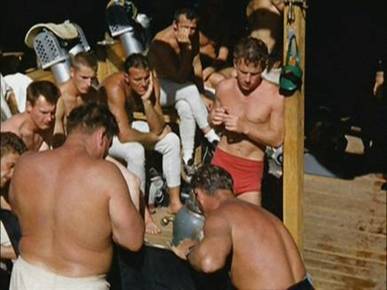 <![endif]>
At one point, Production Designer Harper Goff himself was aboard making pictures like these next ones to document the apparatus he designed.  Here  we see Brendan O'Connor in white shorts.  It seems likely this image was made just after Brendan (acting as Tender) helped the diver to his feet and was in the process of stepping out of the frame when the photographer tripped the shutter.  The diver is Fred Zendar.  He was management and the one who first helped Harper develop the apparatus.  So it's understandable he would model the gear for Goff.  And it's only natural that O'Connor would be the Tender for this photo op because the gear in the picture is the same rig he wore for the cameras.
<![if !vml]>
<![endif]>
How do I know this is the same gear usually worn by Brendan O'Connor?  After 60+ years as a Leaguer; 15+ years R&D researching, building, and operating the 20K diving apparatus; and owning a collection of thousands of images that I've studied continuously and in great detail for almost two decades to identify and document everything I can about the 1954 dive ops in the Bahamas; I am often able to connect small details of the gear with the diver who wore it in the movie. 
The ding and plating gap in the top visor is one indication.  The tanks don't have the usually abundant scratches and rust markings found on the other divers, and the tank bands themselves weren't at least partially painted dark gray.  Looking at this enlarged picture of Brendan being outfitted by Bill Stropahl, you will see those same features in the helmet; also, the cleaner tanks and bands. 
<![if !vml]>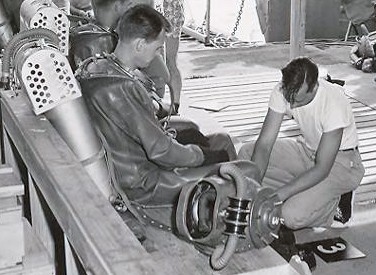 <![endif]>
<![if !vml]>
<![endif]>
Here are close-up pics of Brendan O'Connor's crowntop helmet.  Many identifiable details here; the plating gap and ding in the top visor just to right (diver's left) of center and the asymmetrical shape of both sides of the mask itself are two that stand out. 
<![if !vml]>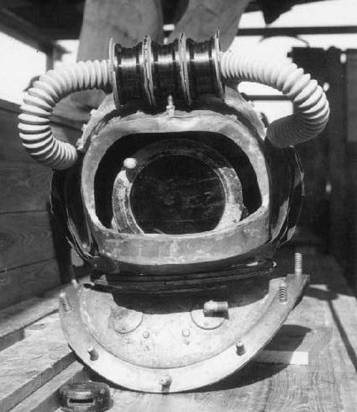 <![endif]>
And this is the right side view of that same helmet.   The angle at which the aft edge of the right side plate is cut, and its relationship to the adjacent aft edge of the outer gill plate; the two, small, sharp outward bends midway up the leading edge of that plate; the generally convex shape of the upper half of that plate; the curve of that plate's leading edge as it turns toward the hose mounting point; the relatively straight lines and spacing of the three inner gill plates; and exact positioning and fill of the hex-nut detailing; all tell me this is the helmet Brendan O'Connor wore.
<![if !vml]>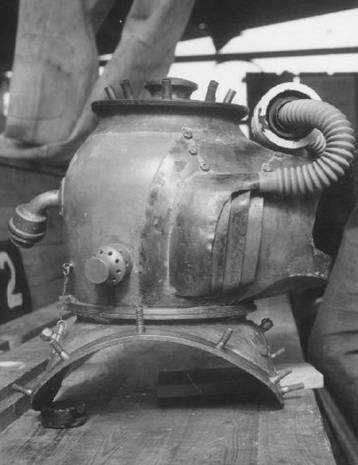 <![endif]>
Brendan O'Connor's crowntop helmet.
Wearing the #3 crowntop helmet, Brendan O'Connor descends the ladder ramp as Bill Stropahl serves as Tender on the starboard side; in the white T-shirt, for you land lubbers.  J
<![if !vml]>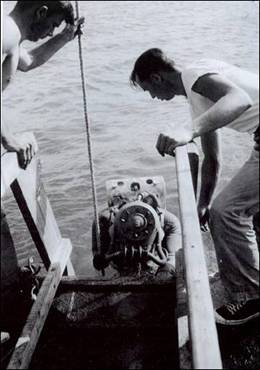 <![endif]>
Director Richard Fleischer and Cinematographer Til Gibani prepare to film 11 divers (not all visible in this image) in the procession scene, as a safety diver known to me only as "The Hawaiian" and wearing Walter Kidde tanks hovers nearby.  The regulators were usually brand new blue label Aqua Lung DA's from Rene Bussoz' USD Broxton shop; though both Fleischer and Gibani are seen in color photos and footage wearing the earlier green label Broxtons; possibly their own personal gear.   Dick Anderson (USD Tech #1) was tasked with keeping all the equipment in working order and, by all accounts, succeeded admirably.  J
<![if !vml]>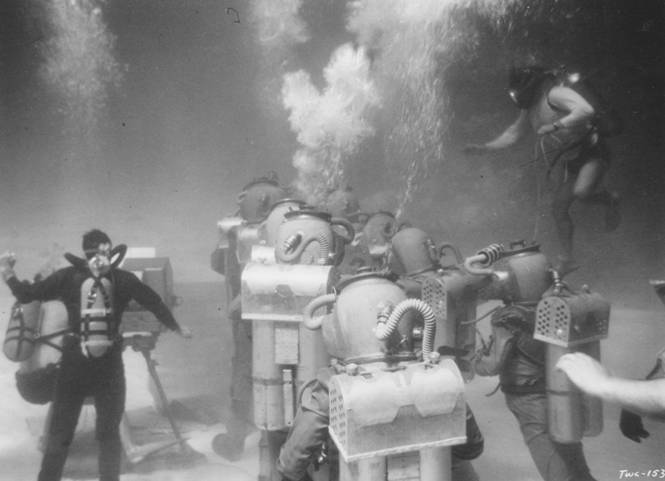 <![endif]>
~LIFE BEYOND LEAGUES~
Brendan married his fiancé Rosalia in 1957.   They shared 32 wonderful years together and raised four children; two sons and two daughters.  During my research for this page, I had the privilege of speaking with Rosalia briefly on the phone.  Now in her golden years, she gave me her heartfelt blessing by saying, "Thank you for helping my family."  I assured her that it was an honor and a pleasure to do so, and was truly touched and motivated to make this page the best it can be.  More than anyone else, this is for you, Rosalia.  God bless you. 
<![if !vml]>
<![endif]>
Rosalia and Brendan O'Connor, 1957.
Brendan O'Connor passed away in San Diego, California, 1989.  On behalf of Leaguers the World over, we here at Vulcania Submarine would like to thank the O'Connor family for their contributions to this page, without which it would not have been possible.
Disney Images © Copyright 1954,  Disney, "All Rights Reserved."
O'Connor Family Images © Copyright 2017, O'Connor, "All Rights Reserved."
Web page, et al, © Copyright 2017, Pat Regan, "All Rights Reserved."
No part of this Website or Page may be reproduced in any form without the written consent of the Webmaster.