LEN MOTT
<![if !vml]>
<![endif]>
"He was one of the best divers;  maybe the best.  He never complained; never had a problem with any of the gear.  He was always cheerful and friendly; always trying to help somebody." 
                                                                                                          (Disney Stunt Diver Bill Stropahl, 2013)
BECOMING A DIVER
Leonard Keith Mott ("Lenny" to his friends) was born in 1931 in Nelson, BC, Canada; to George and Thelma Mott (nee Kidd).  Len was raised and educated in Nelson, Burnaby, and Vancouver.  It became apparent early-on that water sports were among his favorite things in life. 
<![if !vml]>
<![endif]>
A young Len Mott enjoying a Summer swim.
Len was barely 17 years old in 1948 when he dropped out of school in the 10th grade to take a diving course at E. R. Cross' Sparling School of Deep Sea Diving in Wilmington California, USA.
<![if !vml]>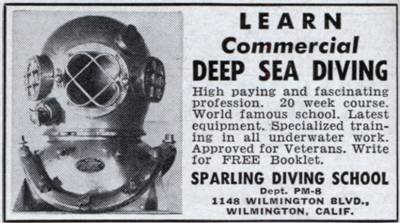 <![endif]>
Early magazine advertisement for the Sparling Diving School; before E.R. Cross changed the name.
After completing basic diver training, Len returned to Canada and went to work for Matt Mathews at Seaboard Marine Divers in Vancouver.  According to friend and fellow diver Dr. Phil Nuytten, founder of Can-Dive and Nuytco:
    "Lenny was a good buddy.  He had apprenticed under Matt in the usual fashion of the day: shop slave, tender, then break-out diver."
<![if !vml]>
<![endif]>
Len Mott tending Matt Mathews.
In 1951 (at age twenty) Len married his sweetheart, Gwen.  In time, they would have two sons:  Steven would be born in 1954; and Russell in '58.
20,000 LEAGUES UNDER THE SEA
But by late 1953 Len was back with E.R. Cross at Sparling learning underwater burning and cutting along with Bill Stropahl when the call came in from Fred Zendar and Al Hansen in Santa Monica: Disney needed experienced hardhat divers to work on a movie.  Bill and Len were the first to be recommended.
<![if !vml]>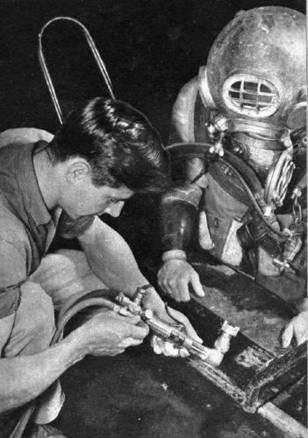 <![endif]>
Sparling Instructor prepares underwater cutting torch for student diver.
And so, in January and February, 1954, Len became one of the Disney Stunt Divers working in the Bahamas to film the underwater scenes for 20,000 Leagues Under the Sea.
<![if !vml]>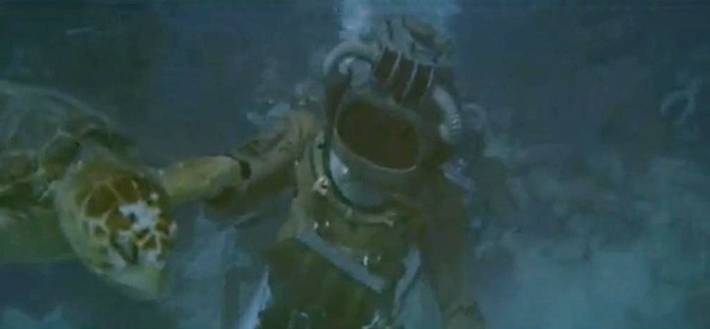 <![endif]>
Len Mott wrestles with a cantankerous sea turtle while filming the "food gathering" scene for 20,000 Leagues Under the Sea.
The energetic 22-year old naturally became the sparkplug of the team.  Seemingly in all places at once; if there was anything that needed doing, he was there ready and willing to do it.  If anyone needed help, he was there to help them.  If he found himself idle, he asked what needed to be done.  That's how he was.
<![if !vml]>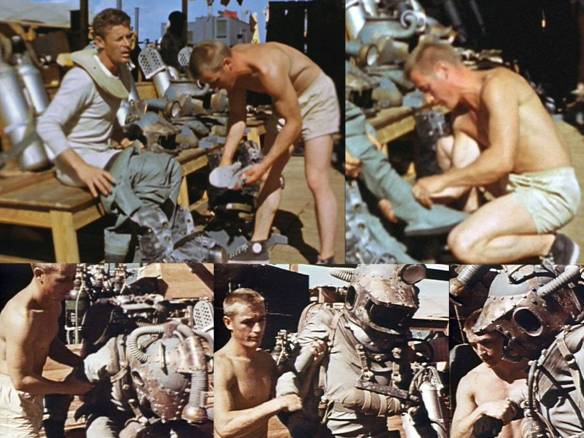 <![endif]>
Operation Undersea: Leonard Keith Mott tends Captain Nemo Stunt Diver David Yale Rochlen.
Len had a winning smile and a positive attitude that was infectious to others.  He dominated the scene with his enthusiasm.  So much so that, while Peter Stackpole had brought along a professional male model, he selected Len Mott more often than anyone else for photos of the divers at work and play.
<![if !vml]>
<![endif]>
Portrait series taken by Peter Stackpole for LIFE Magazine in January 1954.
<![if !vml]>
<![endif]>
Behind the Scenes in the Bahamas.
To his credit, Len Mott was the Stunt Diver chosen to play the part of Conseil; doubling for actor Peter Lorre.  Here's the famous Diving Chamber scene, filmed over the huge indoor water tank at Stage #3 of Disney Studios in Burbank, California.
<![if !vml]>
<![endif]>
Conseil (Leonard Mott) peers nervously into dive hatch coaming.
<![if !vml]>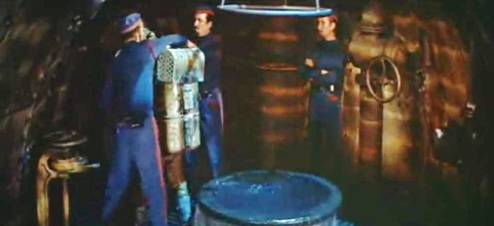 <![endif]>
When it's his turn to dive, he makes a break for it but is stopped.
<![if !vml]>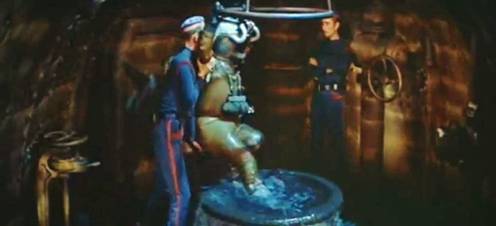 <![endif]>
He's assisted over the edge...
<![if !vml]>
<![endif]>
...and plummets into the depths holding onto his hat.
And in the scene where Ned and Conseil wander off to explore a sunken treasure galleon, the diver filmed in the Bahamas was Len Mott.
<![if !vml]>
<![endif]>
Standing-in for Peter Lorre: Stunt Diver Leonard Mott (R) as Conseil in 20,000 Leagues Under the Sea.
<![if !vml]>
<![endif]>
A "computer screen-grab" of Len tending a diver in Operation Undersea.
<![if !vml]>
<![endif]>
Lunchtime!  Bill Stropahl on the left; Len on the right.
Between scenes, the divers relax by leaning back on an inner tube.  The gentleman in the white hat is Dick Anderson: the very first licensed U. S. Divers Aqua Lung technician ever certified by Rene Bussoz.  He was aboard to personally service all the Aqua Lung equipment and from what Bill Stropahl tells me he was a very pleasant guy to work with.  Later in 1954, Dick attended the Sparling School of Deep Sea Diving, same as Bill Stropahl and Len Mott did.  Makes me wonder if they might not have been an inspiration to him.
<![if !vml]>
<![endif]>
Len and another diver take a break with U.S. Divers Technician Dick Anderson.
<![if !vml]>
<![endif]>
Len Mott poses in his Crowntop rig, wearing Dick Andersons' white hat.
<![if !vml]>
<![endif]>
Len Mott and Bill Stropahl with three other divers I've yet to identify, but I'm working on it!  J
BACK TO VANCOUVER
When his work with Disney was done, Len again went back to work for Matt Mathews in Vancouver.  His work still included the use of hard-hat deep sea diving gear, of course; but he was interested in the (still very new) sport of SCUBA diving and took it upon himself to develop his skills and abilities.  Along the way, he posed for this whimsical portrait of himself with skin diving gear.
<![if !vml]>
<![endif]>
Len Mott, skin diver.
As time passed, life was good for Len and Gwen Mott.  Their son Steven was going on four years old and a new baby (Russell) had only recently arrived when, on June 17, 1958, the nearly-completed Second Narrows Bridge collapsed: a tragic event that would change the lives of many.
TRAGEDY 
How did it happen?  In a word: negligence.  An inexperienced engineer made a miscalculation that someone actually noted on the plans but no one ever corrected.  Resultantly, a falsework (designated Bent N4) that was needed to support the span during the critical final stage of grounding, ended up being built to substandard specifications.
When Bent N4 failed, Span Five fell and Span Four immediately followed; sending tons of steel crashing into the waters of Burrard Inlet; killing 18 men and injuring 20 more.  It was a terrible disaster, perhaps best described in TRAGEDY At Second Narrows by Eric Jamieson. 
<![if !vml]>
<![endif]>
ISBN 1550175300
RECOVERY
Rescue work was begun almost immediately by those on site who were still able to help.   A small armada of vessels converged on the area as local fishermen and boat owners came forth eager to assist.  Seriously injured ironworkers clinging to the twisted bridgework declined aid and directed boatmen to "help the others first."  Similar acts of heroism were commonplace. 
The divers of Len's union (Local 2404) were called in.  Again, quoting Phil Nuytten:
    "I was the first rescue diver (although it was more body recovery than rescue) on the scene after the collapse.  I found one body inside a twisted girder and it was obvious that we couldn't get him out except by burning the section out.  Seaboard Marine got the burning job."
Nine days after the bridge fell, two people were still missing and the recovery operation continued.  On June 26, Seaboard Marine was asked to provide a diver who was certified in underwater burning and cutting.  Len Mott had the training, the credentials, and was already working nearby; so he was assigned.
<![if !vml]>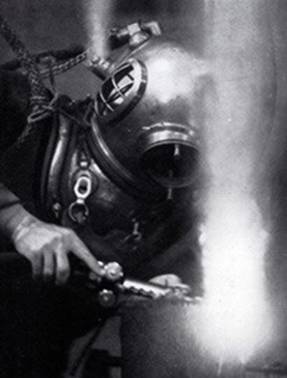 <![endif]>
Hardhat diver with Oxy-Hydrogen torch.
LOST
Len elected to use SCUBA and wore the heavy weightbelt from his MkV diving dress to counter the strong currents.  He was thirty feet underwater with Dave Arnold, cutting steel with an Oxy-Acetylene torch.  Slag was filling the cut, so Arnold went topside for a sledge hammer; when he returned, Mott was gone.  It's believed he may have run out of air and surfaced.  It was also suggested he may have struck hard on a submerged cable during his ascent and been injured. 
Severely over-weighted and with a piece of dark welder's glass taped over his faceplate; Len surfaced with his mask down over his nose and mouth, missed his grab on the dive boat, and was carried away by the current.  A lifeline was tossed but fell short.  Fighting to stay afloat as the boat motored to his rescue, Len seemed to be adjusting his face mask and putting his mouthpiece back in.  Then, he made one more great splash and disappeared beneath the surface with the current carrying him towards the submerged wreckage.  That was the last they saw of him.
<![if !vml]>
<![endif]>
Len Mott's demise is described in TRAGEDY at Second Narrows Bridge.
<![if !vml]>
<![endif]>
A newspaper account of how Len Mott was lost.
Len Mott was one of three bridge-related fatalities whose bodies were never recovered.  That lack of closure imposed additional hardship on his already grief-stricken family.  It took four months and the decision of a judge in court before Len's brave widow could have him legally declared deceased and take steps toward finalizing his affairs.  Only then were Gwen Mott and her two young boys able to begin the difficult process of going on with life without their husband and father.
EULOGY
Len was only 27 when he died.  In that short time he lived life to the fullest, began a family, and amassed some impressive accomplishments.  He followed his dream, had his 15 minutes of fame, and today he is fondly remembered by many. 
His approach to life was a courageous one; he accepted the dangers of his profession and if it ever frightened him, it never showed.  Instead, those who knew him say he was always upbeat and confident; the life of the party; just the kind of person you'd like to get to know.
In eulogizing Len Mott, it seems to me the words of his friend Bill Stropahl best describe not only how he lived, but how he died. "He was always trying to help somebody."  I think that pretty much says it all.
<![if !vml]>
<![endif]>
<![if !vml]>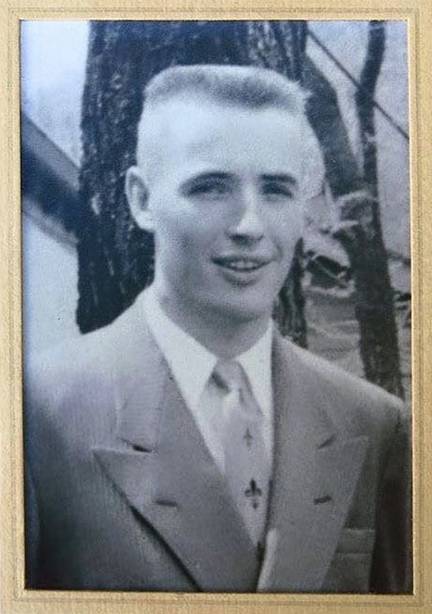 <![endif]>
LEONARD KEITH MOTT
1931 - 1958
Epilogue
Len Mott's wife Gwen lived a full life and passed away in March of 2014.  His son, Steven Brown, is retired after 30 years in the forest industry, lives in Richmond, Alberta, and enjoys flying high-tech kites.  His son Russell Mott lives in Southern California and is a retired Hollywood prop maker.  Grandson Christopher Leonard Mott lives in Calgary, Alberta, and is a contractor for a luxury condominium complex.  Grandson Andrew Steven Brown also lives in Calgary, Alberta and is a welder by trade, working in the oil industry.
<![if !vml]>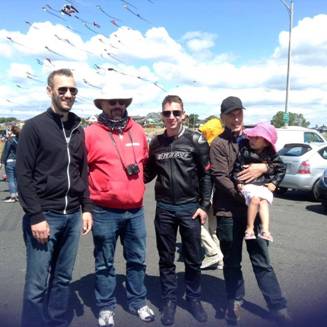 <![endif]>
Chris, Steve, Andrew, Russ, and Russ' daughter Chalisa; 2016.
On behalf of Leaguers everywhere, we here at Vulcania Submarine would like to thank Len's friend and fellow Disney stunt diver Bill Stropahl; his friend and diving buddy Dr. Phil Nuytten; his sons Steven and Russell; and grandsons Christopher and Andrew for their support and contributions to this page.  Mahalo!  J
Peter Stackpole LIFE Magazine Images used in accord with Fair Use of items in the Public Domain.
Images from 20,000 Leagues Under the Sea and Operation Undersea © Copyright Disney,`1954 - 2015 "All Rights Reserved."
Images of Leonard Keith Mott © Copyright Steven Brown and Christopher Leonard Mott, 2015, "All Rights Reserved."
Webpage, Text, and Images © Copyright 2015, Pat Regan, "All Rights Reserved."