RESTORED DISNEY DIVER HELMET
In 1954, Disney Divers Bill Stropahl, Al Hansen, and others performed the underwater sequences for 20,000 Leagues Under the Sea, wearing what was then a new form of hybrid diving gear.  Today, fifty-four years later, some of the equipment they used is back in operation for the first time: restored by Vulcania Submarine.
<![if !vml]>

<![endif]>
<![if !vml]>
<![endif]>
Pat Regan is a fairly common name.  There's a famous musician by that name who worked with Deep Purple, Camine Apice, and wrote themes for several movies; but I'm not him.
Chris Larson is also a very common name, shared by a well-known Nautilus modeler and a TV News personality in Nevada; but we're not talking about them, either.
Chris Larson is a retired Disney Imagineer who worked for several years as a Special Effects Technician/Designer and Model Maker in Glendale, California. Below is a picture of Chris working on a model of a Disney Train Depot.
<![if !vml]>
<![endif]>
In the year 2000, part of Chris' duties included overseeing an Imagineering R&D facility known as Bonus Built, shown below.
<![if !vml]>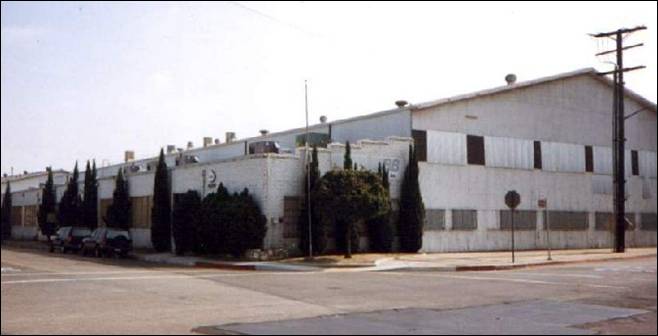 <![endif]>
One afternoon (in his own words) Chris was "receiving various pieces of equipment from other WDI buildings for the purposes of inventory and determining the disposition of each item.  One shipment included a large, very old, dilapidated box containing the damaged remains of a Disney 20,000 Leagues diving helmet and three mismatched diving boots.
<![if !vml]>

<![endif]>
"The Disney Archives was immediately contacted with a description of the find. They said they already had two of the helmets and weren't interested in the boots. Their instructions were to store the helmet for a year and at the end of that time, if no request for it had been made, then dispose of it. Those instructions were honored."
<![if !vml]>
<![endif]>
<![if !vml]>
<![endif]>
Disney "Baldy" helmet on display at Walt Disney World, Orlando Florida, 2008.
In December 2007, after retiring from Disney, Chris began researching the helmet's history.  On a hunch, he contacted the agency representing Kirk Douglas to ask if the actor had any recollection of the helmet being damaged in the Longboat Fight scene.  Unfortunately, Mr. Douglas could provide no information about that.
<![if !vml]>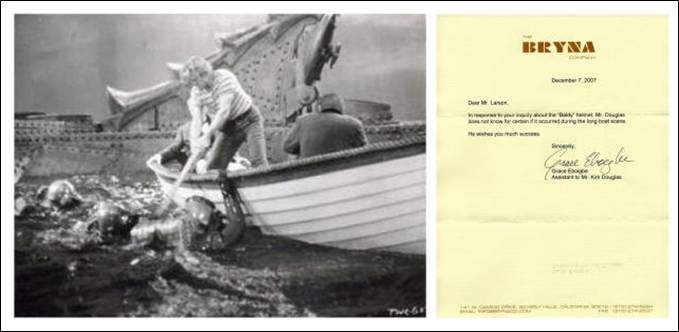 <![endif]>       
In February 2008 Chris contacted Vulcania Submarine for assistance.  By his own admission, Chris was more adept at working with wood than metal, and he felt I would be best able to repair the helmet, if that's what we decided to do.  In the letter of authenticity (below), Disney Imagineer Chris Larson documents his discovery; disclosure to the Disney Archives; their decision; and how I subsequently came into possession of these authentic Disney 20,000 Leagues artifacts.
<![if !vml]>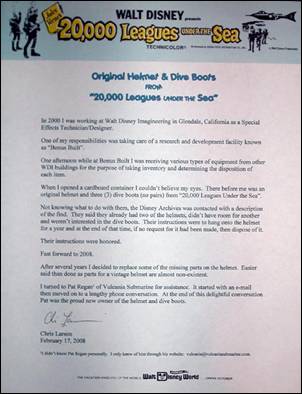 <![endif]>
Letter of Authenticity from Chris Larson, Disney Imagineering, Glendale California.
I began where Chris left off: trying to learn how the helmet had gotten into such bad shape.  Through careful study, I came to believe the damage may have happened during filming.   But after consulting Leagues historians and cast members, I couldn't find anyone with first-hand knowledge that would prove my theory.  Thus, without proof of how it occurred, the damage was historically insignificant and not worth preserving.
Next, I solicited opinions about what should be done with the helmet.  Since the cause of the damage could not be proven; and since most of the surviving Disney helmets (including the "Hero" Nemo, shown below) have received some repair over the years; the general opinion among the film authorities, Leaguers, diving helmet collectors, and vintage SCUBA enthusiasts I contacted was that this damaged and forsaken movie prop should be restored; hopefully, while maintaining as much authenticity as possible. 
I gave it a lot of thought.  This wasn't a rare coin that might be diminished by restoration; this was a machine that should be repaired and put back into service to represent its kind.  Like a B-17 found in a swamp or a vintage Harley found in a barn: you bring things like that back to life so future generations can enjoy seeing them in operation.  So I decided restoring the helmet was the right thing to do.
<![if !vml]>
<![endif]>
Damaged "Hero" Nemo helmet in Outfitting Room set at Disney Studios, 1954; Restored Nemo in private collection, circa 1990's.
I was no stranger to this type of work but I still felt a little awestruck at the task.  This was a genuine Disney 20,000 Leagues artifact: one of only four Crowntop Crew Diver helmets known to still be in existence, and an ultra-rare underwater stunt version at that.  Everything I'd learned in my years of producing functional replicas of the Disney diving apparatus would now factor into restoring an authentic helmet.  I felt like I was holding history in my hands.  I proceeded slowly; with great caution and much aforethought prior to performing each operation.
<![if !vml]>
<![endif]>
Carefully straightening bent metal with needlenose pliers: padded with tape to prevent marring the original finish.
In all, the restoration took several months.  Special efforts were made to preserve the aged patina and original SFX paint, while returning the damaged metal artwork to its original shape.  Whenever possible, missing pieces were replaced with authentic vintage parts.  No fiberglass or resin facsimiles were used.  The metal "crown" was handmade using the authentic Disney Crowntop helmet in Leon Lyons' museum collection as a reference (Thanks Leon!) and fit perfectly into the trace marks left over from the original when installed.
<![if !vml]>
<![endif]>
I also asked what should be done with the helmet after it was restored.  Most said if it could be dived, it should be.  Again, I agreed; the purpose was to make it serviceable so people could see it in operation.  So the restoration was both cosmetic and functional.  On Sunday, October 12, 2008, we did our first test dives in the pool and the helmet passed with flying colors.
     <![if !vml]>
<![endif]>
Then, on November 1, 2008, we took everything to the ocean and photographed it in its intended environment: under the sea.  That event marked the first time any of the authentic Disney 20,000 Leagues diving gear was returned to service in the fifty-four years since the movie was made.  
<![if !vml]><![endif]>
The dive was at Puhi Bay on the East side of "the Big Island" of Hawaii.  We chose that spot because it was accessible and the shoreline provided an easy entry to the dive site.  But the day was not without surprises.  J
<![if !vml]>
<![endif]>
As 20,000 Leagues Director Richard Fleischer said, "The sea is always there to defeat you."  Diving from the coast into the open ocean, one can become subject to rapidly changing conditions.  It got a little rough.  Above left, I'm readjusting my tank harness after being jostled about in fairly strong currents.  And on the right you can see what halocline and particulate matter in the water do to visibility.
<![if !vml]>
<![endif]>
Here's a close-up taken while I was walking out, and another as I was surfacing.  The "spools" got tilted as I was bouncing around in the surge, but the helmet performed as well for me as it did for the Disney Divers more than five decades ago.
<![if !vml]>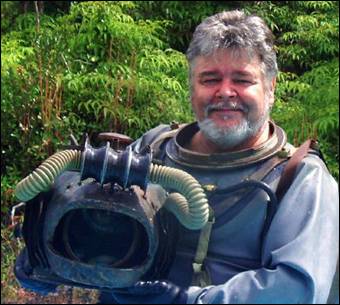 <![endif]>  <![if !vml]>
<![endif]>
Pat Regan and the World's only operational authentic Disney 20,000 Leagues diving helmet.
In closing, here's a recent picture of Disney Imagineer Chris Larson: the man who discovered this long-lost Leagues helmet and cared enough to save it from destruction.   Without Chris, none of this would have happened.   Because of him, a significant piece of Leagues history was saved to dive again. 
<![if !vml]>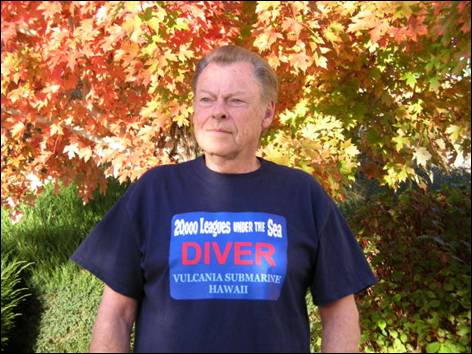 <![endif]>
We're proud to have Mr. Larson wear the colors reserved for our Vulcania Submarine dive crew.  He can dive with us anytime.  On behalf of 20,000 Leagues-fans everywhere: "Thanks for everything, Chris!  You are a true Leaguer." 
UPDATE, 20 February 2015:  Here's a pic of Chris and Candy celebrating their 48th Wedding Anniversary on a cruise at Lake Tahoe recently.  We're extremely happy to see these two wonderful people enjoying their golden years; they really do exemplify what being a Leaguer is all about and I am proud to call them my friends.  Happy Anniversary to you guys and many more happy returns of the day!  Keep On Leaguin'.  J 
<![if !vml]>
<![endif]>
J
COMING NEXT!
My theory on how the lost helmet was damaged and the evidence supporting it.
Copyright © 2008, Pat Regan, "All Rights Reserved."