The Third Variant Disney 20,000 Leagues Diving Helmet
<![if !vml]>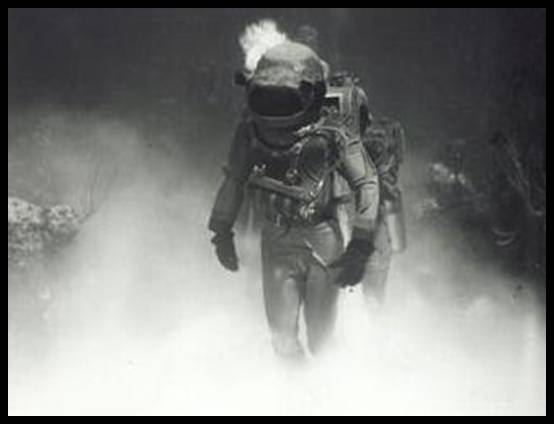 <![endif]>
Disney Diver wearing "Baldy" helmet, Lyford Cay, Bahamas, 1954
I've wanted one of these ever since I started building Leagues hats; finally got around to finishing one in 2009.  Ah yes, friends and neighbors!  Yet another "World's First" for Vulcania Submarine:  the functional replica Baldy Crew Diver helmet.  J
<![if !vml]>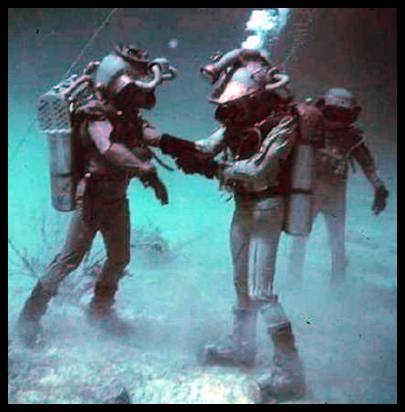 <![endif]>
Photo by Peter Stackpole, ©  LIFE Magazine Archives, "All Rights Reserved."
Disney ordered 24 helmets from the Toa manufacturing company of Japan; unfortunately, Toa didn't have that many new hats in stock, so some of those provided in that shipment weren't exactly new; which explains slight differences in some of the basic helmets themselves. 
For the most part, production of 20,000 Leagues under the Sea depended on 18 modified diving helmets: the "first lineup" consisted of one Nemo, twelve "Crowntop" Crew Divers, and five Crew Divers of the type commonly referred to as "Baldies".  Because all of the ornamental art metalwork on the Disney helmets was handmade, there are small differences: even among those of the same type.
<![if !vml]>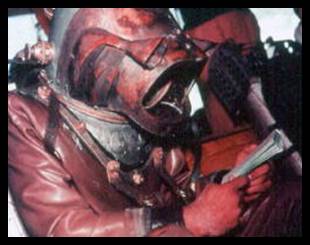 <![endif]>       <![if !vml]>
<![endif]>
<![if !vml]>
<![endif]>
Image from Helmets of the Deep © Copyright Leon Lyons, "All Rights Reserved."
The Baldy is the third type of diving helmet seen in 20,000 Leagues Under the Sea.  Everyone seems to be most interested in the Nemo, and so was I; so that's what I built first.  Then, the Crowntop Crew Diver Helmet seems to attract people's interest, so I build those, too.  The Baldy is relatively less adorned (no hoses, lamp, spools, or crown) and maybe that's why it seems like the unwanted child of the bunch.  I put off building one until there was nothing else lacking to complete my collection.  But after replicating this hat, I'm glad I did.  It's a very unique design in its own right; and the more I study it, the more I like it.
<![if !vml]>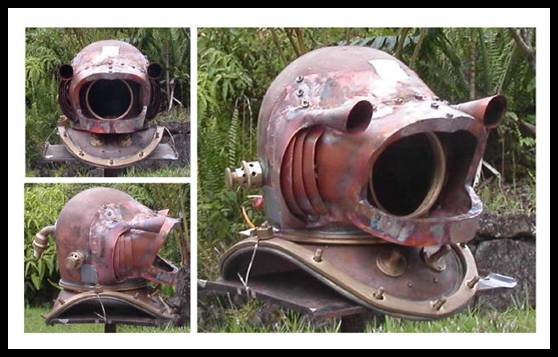 <![endif]>
Three views of our replica Baldy Helmet in progress.
I once thought the Baldy was nothing more than a Crowntop minus a few parts.  Not so.  The facemask has a very distinct personality; the metalwork has subtleties all its own.  So, I couldn't start with the patterns I'd used for Crowntop Diver helmets in the past; I had to make all new designs, templates, and parts for the metalwork.
<![if !vml]>
<![endif]>
Baldy in progress with metalwork mostly finished.
<![if !vml]>
<![endif]>
Masked and painted.
<![if !vml]>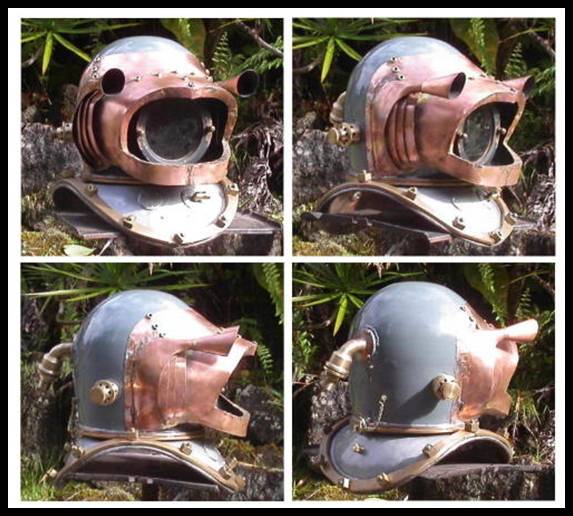 <![endif]>
Vulcania Submarine's completed "Baldy" Nautilus Crew Diver Helmet
UPDATE: Monday, February 09, 2015.  Here are some pictures of my Baldy helmet in action.
<![if !vml]>
<![endif]>
Reserve air system pool test at Vulcania Submarine, Hawaii; October 2014.
<![if !vml]>
<![endif]>
Ocean dive, Kapoho Hawaii, October 2014.
© Copyright Pat Regan, 2014, "All Rights Reserved."