Random Items from Around the World
<![if !vml]>
<![endif]>
Next time: surface BEFORE reaching the beach!
<![if !vml]>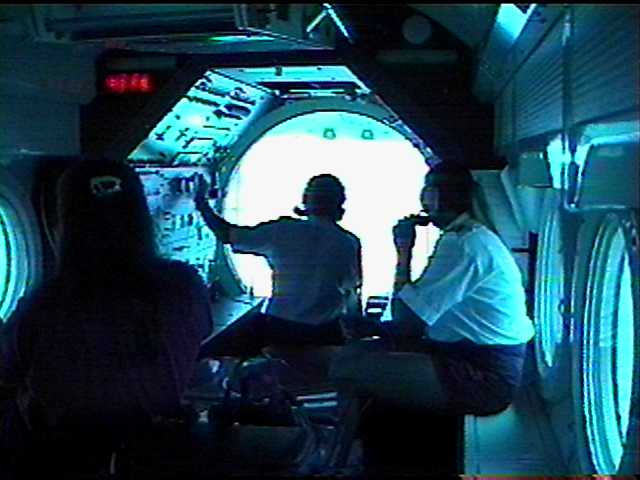 <![endif]>
I took these picture while Lynn and I were diving on the ATLANTIS sub in Kona.
<![if !vml]>
<![endif]>
We had the whole thing to ourselves!  (That's a crewperson aft.)
<![if !vml]>
<![endif]>
The fellow I got these pictures from identified them as a wealthy Saudi's underwater palace.  I have recently found out this is the RED SEA STAR restaurant in Israel.  Still fantastic, wherever it is!
<![if !vml]>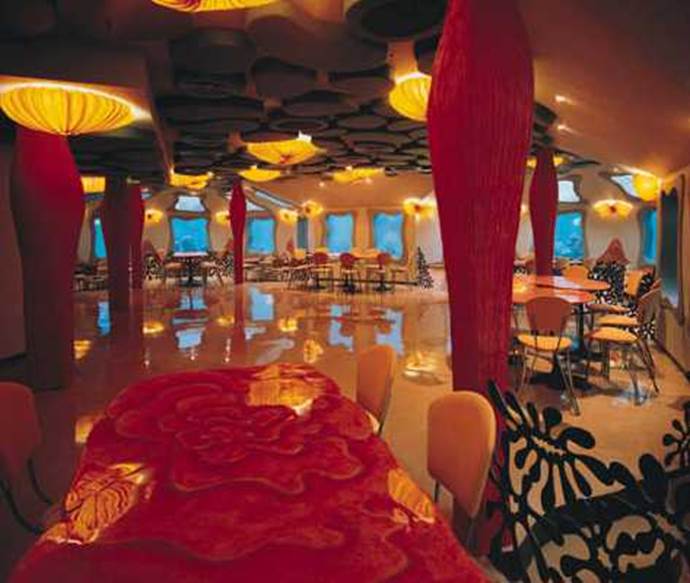 <![endif]>
Inside the RED SEA STAR Restaurant.
<![if !vml]>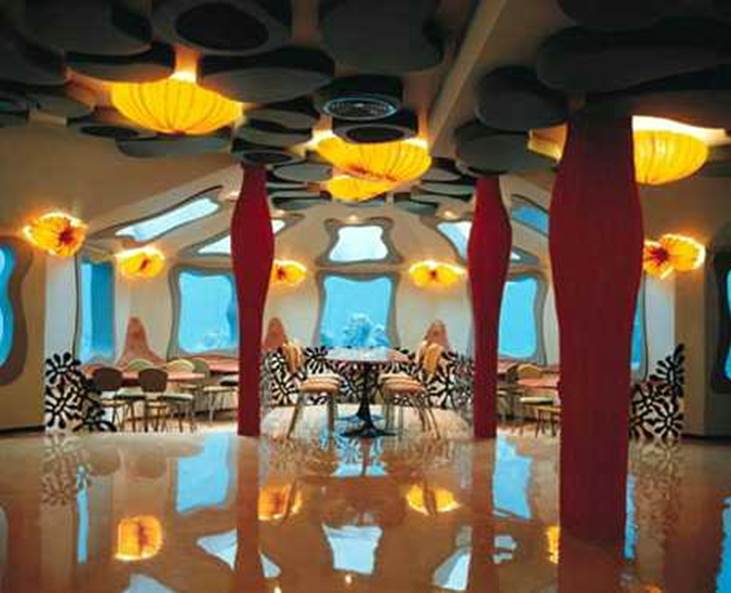 <![endif]>
For more information about this amazing underwater habitat, visit the following website:
http://www.redseastar.com/aboutus-en.php
Enjoy!
<![if !vml]>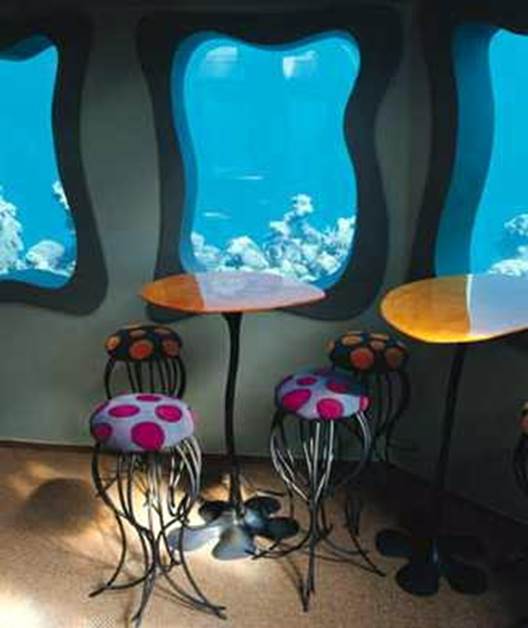 <![endif]>
Jellyfish furniture? 
<![if !vml]>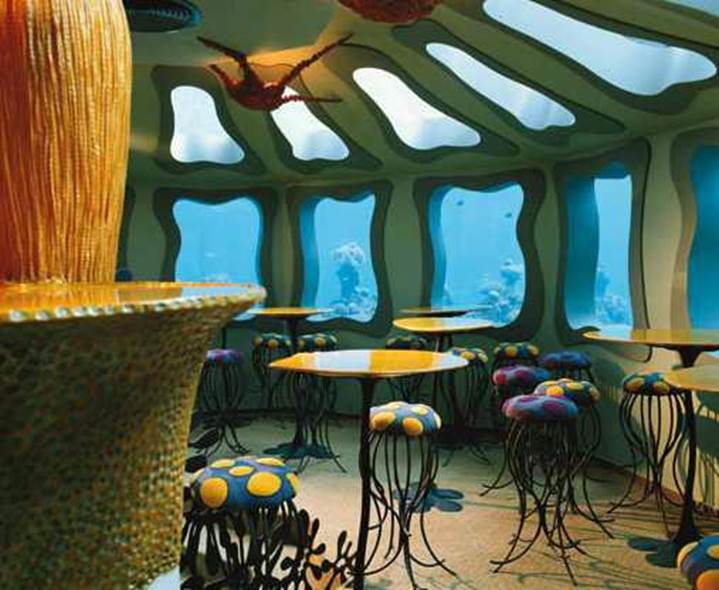 <![endif]>
The owner of this place must have been a distant relative of Captain Nemo!  
<![if !vml]>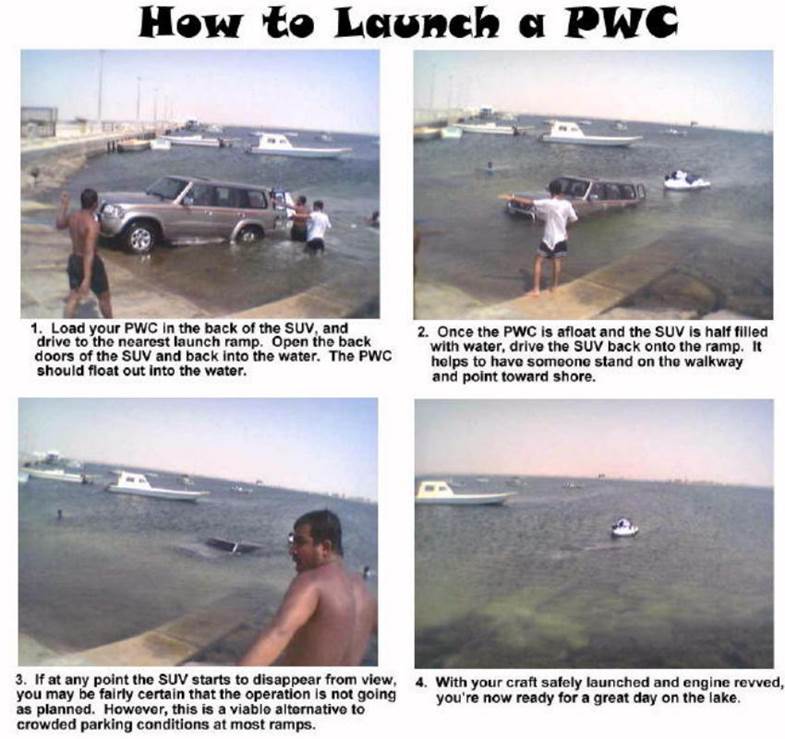 <![endif]>
These guys had few too many beers, maybe?
<![if !vml]>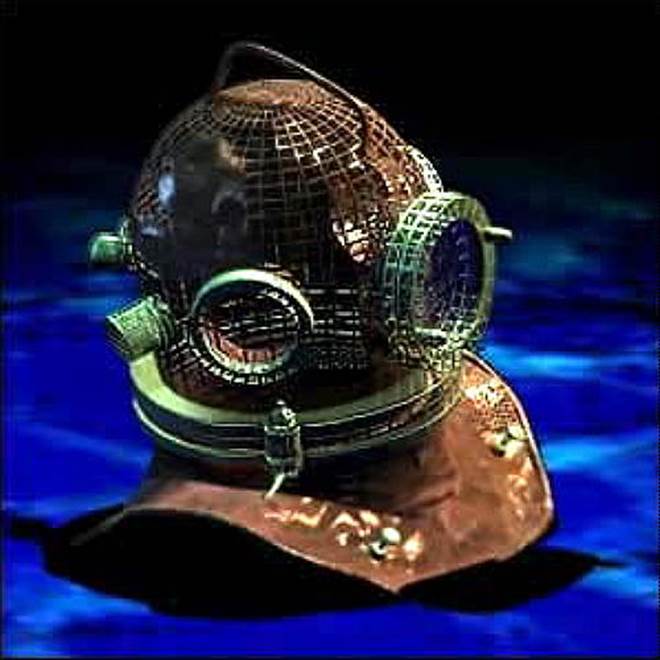 <![endif]>
Here's an interesting image from DESMARINS MIDIA DIGITAL in Italy.  This one is entitled TRADITIONAL DIVING HELMET.  Looks like the artist started to represent a Russian 3-Bolt, and then went off into the Twilight Zone!   Thanks to LEON LYONS for letting us know about this one.
<![if !vml]>

<![endif]>
Here's a look at my CUSTOM REPLICAS 31" NAUTILUS model.  The photo doesn't do the subject justice; not that my treatment of it is all that special, but I feel Jim and Scott do amazing work.  Truly a class act all the way.
<![if !vml]>

<![endif]>
I did my CR NAUTILUS on a base-coat of red oxide, "distant misted" with layers of chocolate brown and flat black to produce a realistic "granular" rust tone that (unfortunately) doesn't show that well in these pictures.  I intended to simulate hardened alloy on the raker teeth, so I did them in gray, highlighted in dry-brushed silver to simulate the bright spots one sees when metal has been marred (which they would be, passing through hulls) and then muted the effect with a distant misting of flat black.  The salon iris is closed.  I didn't install a lighting kit, so I simulated light bulbs with tiny drops of clear epoxy.  It turned out OK, but as an afterthought I realized small hemispherical acrylic cabochons (available at some craft stores) would have worked better.  I might do a little more work on the rivet panel highlighting, but even if I never do, I'm very pleased with how this model turned out.  My treatment of it was fair, but CR quality is excellent.  For my money, they produce the best NAUTILUS models available.
<![if !vml]>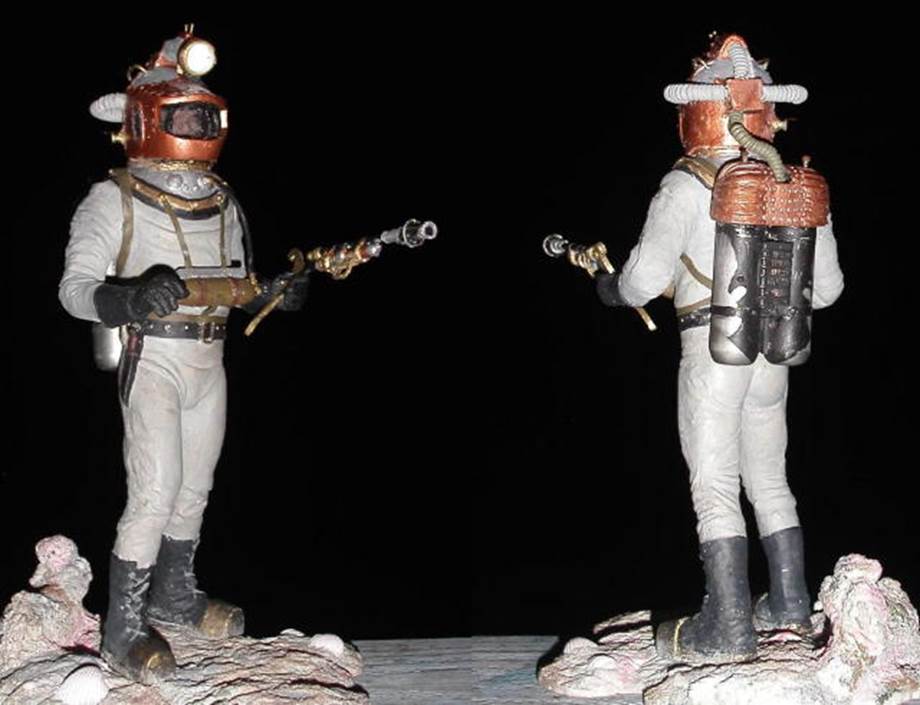 <![endif]>
I did one of those CAPTAIN NEMO DIVER resin kits from DIMENSIONAL DESIGNS in San Francisco, but with a few modifications to make it more accurate.  Here's a composite shot of both sides to see how it turned out.  Might do a page on this one in the future.
<![if !vml]>
<![endif]>
A friend who saw the model in person suggested I post a closeup of the helmet.  This model is cast with solid surfaces for the viewports and headlamp lens.  Most people paint them silver.  Instead, I took a fine tip Dremel Mototool and carved into it.  I went deep inside the helmet and carved Captain Nemo's head, which I then painted, beard and all.  The ports are closed with clear plastic "glass".  Looking in through the side ports, you see Nemo's ears and the side of his head.  J   And I carved into the headlamp to create a reflector, painted it white, simulated a bulb with a drop of clear epoxy, and used one of the spare clear plastic salon window light lenses from my 31" Custom Replicas NAUTILUS (above)  as a headlamp lens.
<![if !vml]>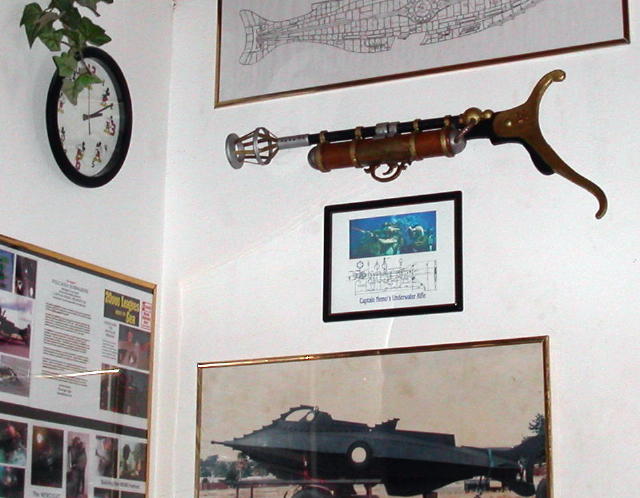 <![endif]>
Here's my 1:1 scale FUNCTIONAL NEMO RIFLE.  There were a couple variants of these rifles used in the movie.  This is all metal construction, made from the plans and with reference to on-location BTS photos of an actual prop used in the movie that looked like this one.  I haven't put the sights on yet, and might not: still debating that.  This rifle uses an internal steel air tank I fabricated myself.   It is capable of firing a spear tipped with a standard barbed point for hunting, or with a powerhead for protection from dangerous underwater predators.
<![if !vml]>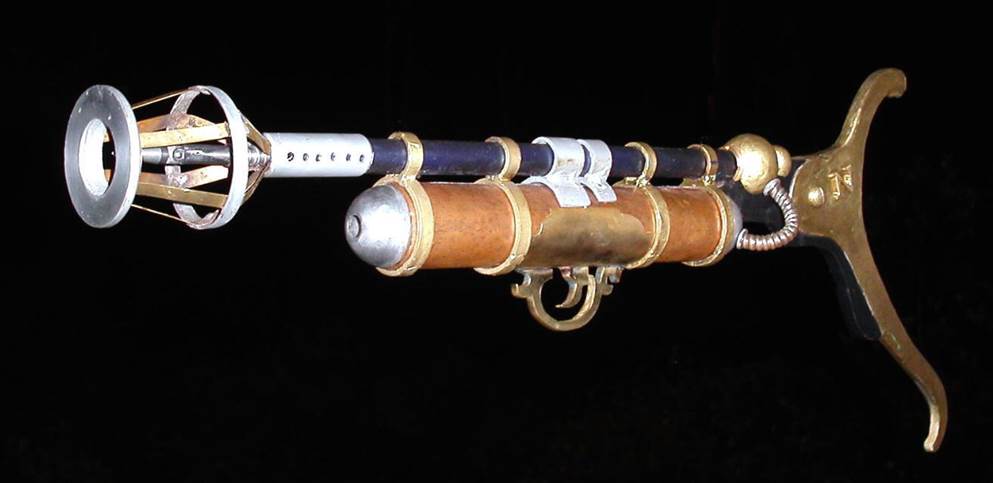 <![endif]>
The FUNCTIONAL NEMO RIFLE with a spear in the barrel: this one has a double-barbed hunting tip.  The air tank was out of the gun when I shot this picture. When it's installed, an air-inflator fitting like those found on an automobile mag wheel protrudes through the hole in the front aluminum hemisphere; that's how we pressurize the tank.  Might do a page on this project one of these days.
<![if !vml]>
<![endif]>
Limited Edition Jimi Hendrix "Voodoo" Stratocaster by Fender Guitars
My latest weapon in the war against herd-conformity and oatmeal-mediocrity.  Nice, huh?  J
<![if !vml]>
<![endif]>
March 29, 2006: I've thought these were lost for 15 years.  These are the original working plans from which the NAUTILUS MINISUB was made.  The 27.5 inch sub image is an enlargement of a poor quality Xerox from Joel Frazier and Harry Hathorne's May '84 CINEFANTASTIQUE article on the making of 20,000 Leagues.  The area by the skiff and the tip of the ramming spur didn't copy, so I had to draw those in as best as I could back then when images of this sub were scarce.  Measurements were taken from this drawing and extrapolated to produce parts large enough for our submarine. The paper is spattered with black paint from a spray can that popped in the shed where these plans were hanging.   At the left middle of the page is the phone number for the San Francisco Red Cross Volunteers Station.  I heard a call for volunteers on the radio the day after the 1989 earthquake, jotted down their number, and rode the BART train through the tube under the Bay to help out.  Glad I found these.  Think I'll frame 'em.
<![if !vml]>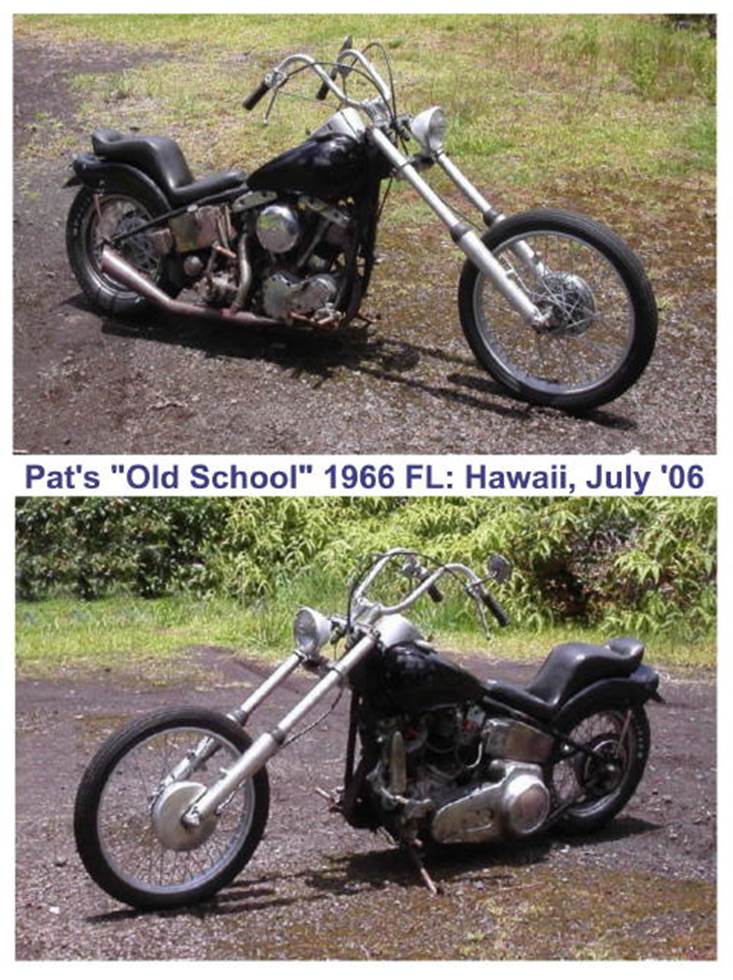 <![endif]>
My life has never been limited to submarines and diving suits, so neither are the pictures on this page.  Here's one for all my old biker buddies back on the Mainland.  Yup!  The infamous chopper is still alive and well.  Hard to believe I've owned this motorcycle for more than thirty years.  Some of the parts no longer shine quite as brightly as they once did, but as they say, "Chrome don't get ya home."  This has always been a reliable, one-kick motorcycle, and is still mechanically excellent after all this time.  I designed this bike on paper and built it to be just as you see it now.  Yes, it's a chopper…and I wouldn't have it any other way.J
<![if !vml]>
<![endif]>
And speaking of motorcycles, check this one out!  This was sent to me as an example of "Redneck Tech", whatever that means.  Kinda gives new meaning to the phrase, "Wooden Indian."  Now, obviously the guy who built this wasn't thinking about "pretty" or winning any custom bike shows; he just wanted transportation!  But I have to admire his ingenuity.  Since I'm a guy who once built functional rebreathers out of household junk, I think building a wooden motorcycle is pretty damn clever.  And I wouldn't be at all surprised if the thing actually rode well, too.  J
<![if !vml]>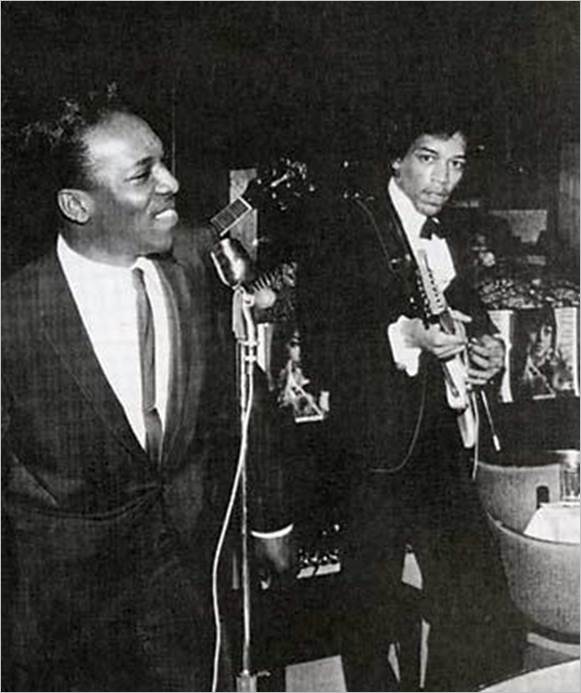 <![endif]>
And for my musician friends, here's a candid shot you might like.  The gentleman on the left is none other than the great soul music recording artist Wilson Pickett, of "Midnight Hour" and "Mustang Sally" fame.  The very cool looking cat on the right, playing southpaw backup on a rather strangely reversed Stratocaster, is some guy by the name of James Marshall Hendrix.  This picture was taken in one of the East Coast clubs before Jimi was discovered by Chas Chandler and went to England to form The Jimi Hendrix Experience, wherein he completely redefined the scope and direction of electric guitar music forever.  And the rest is rock history.  J
<![if !vml]>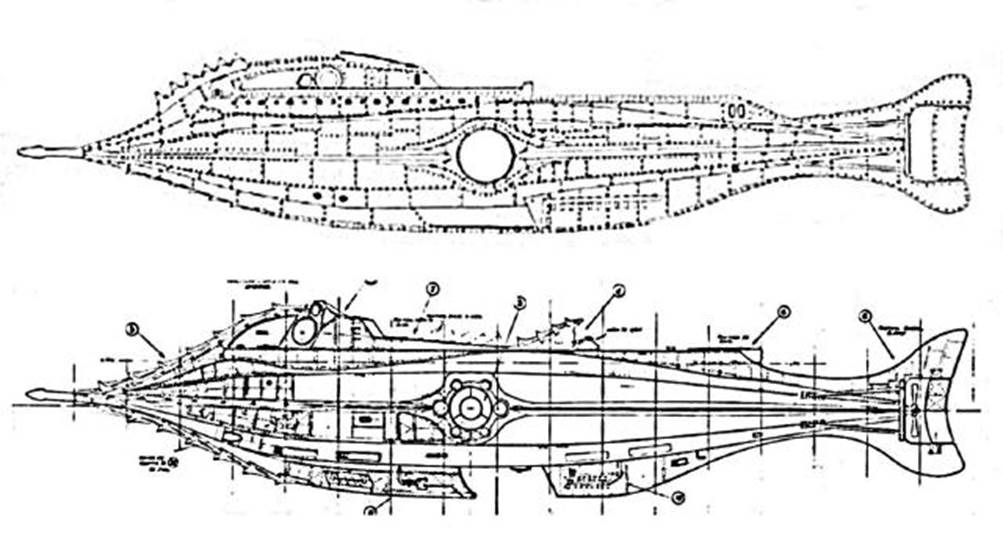 <![endif]>
Okay, getting back to the NAUTILUS…people often refer to the sub seen in Disney's 20,000 LEAGUES as the "Goff NAUTILUS."  Actually, that's not so, according to the Disney CEO, President of Imagineering, and Disney Legal when I talked to them back in 1991.  The drawing on top is the Goff NAUTILUS prototype concept.  The drawing below that is the Disney NAUTILUS.  Obviously, the two are not the same.  Goff came up with a general idea, but the finished design was produced by the Disney Art Department.  As the head of Production Design for LEAGUES, Goff had the final decision to accept the design or not; but the actual design we see in the movie was not invented by Harper Goff.  That credit goes to the talented people in the Disney Art Department.  And I've also seen "experts" tell the public that Goff came up with the idea for the roof lights and dorsal fin himself.  Nope.  That was the Disney Art Department, too.  When Goff saw the design changes, he immediately liked the way they looked and gave them his OK; but actually, those ideas weren't his.  At least, so says Corporate Disney. 
<![if !vml]>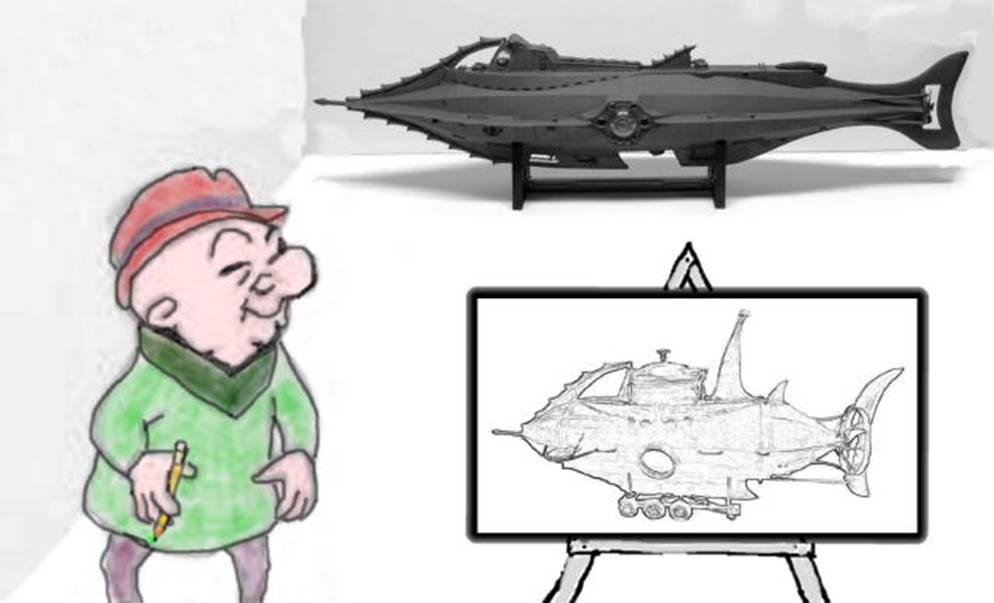 <![endif]>
And while we're on the subject of the NAUTILUS…remember when that "fascinating green thing" turned up on eBay a while back?  A few "authorities" were quick to embrace it as a Disney NAUTILUS submarine. Apparently, the fact that it wasn't functional and looked more like a train than the NAUTILUS didn't matter to them.  At the time, it was hard for me to believe that anybody in the 20,000 LEAGUES community could be that far off the mark about what is (and is not) a NAUTILUS replica; but looking at the picture above, I see now how it could have happened.  J
<![if !vml]>
<![endif]>
In 2005, the Island nation of St. Kitts issued these Jules Verne commemorative stamps featuring Denayrouze and Roquayrol's Aerophore, and my Nemosuit. 
<![if !vml]>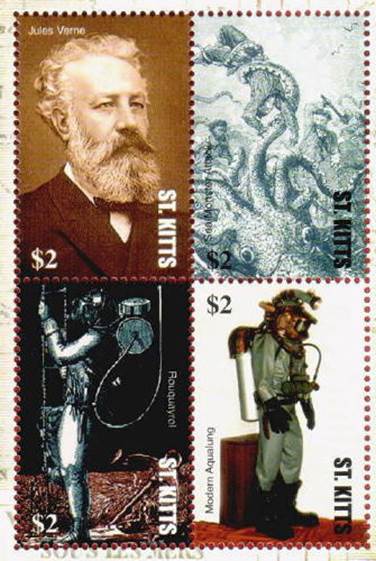 <![endif]>      <![if !vml]>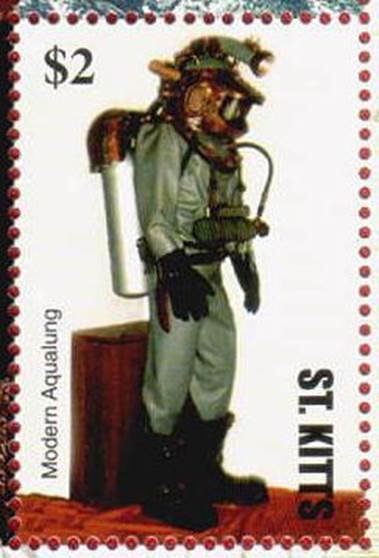 <![endif]>        <![if !vml]>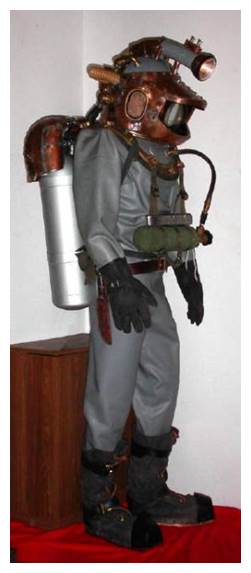 <![endif]>
The 4-stamp set; the Nemosuit stamp close-up; and my original photograph.
<![if !vml]>
<![endif]>
A glimpse into the Vulcania Submarine computer work area.  (A) MIDI Keyboard / Synthesizer; (B) Storage shelf filled with computer supplies and submarine parts; (C) Computer, etc.; (D) Poster wall; (E) Authentic Disney 20,000 Leagues diving helmet; (F) bow of 66" Nautilus model by Jim Key and Scott Brodeen, unfinished.
<![if !vml]>
<![endif]>
Here's a "stained glass" NAUTILUS that I did back in the 1980's.  It's the faux "liquid glass" kind; my first-and-only attempt at anything like this.  The sub measures about 27 inches from spur to tail, and was based on the working plans from which the NAUTILUS MINISUB was built. 
<![if !vml]>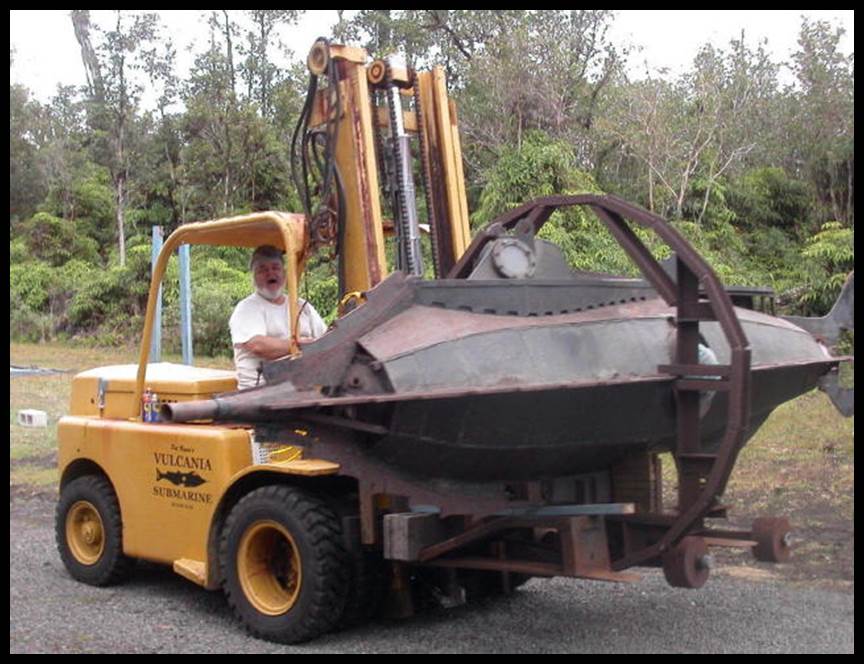 <![endif]>
Pat Regan, Vulcania Submarine, Hawaii: "Movin' my toys around."  J
<![if !vml]>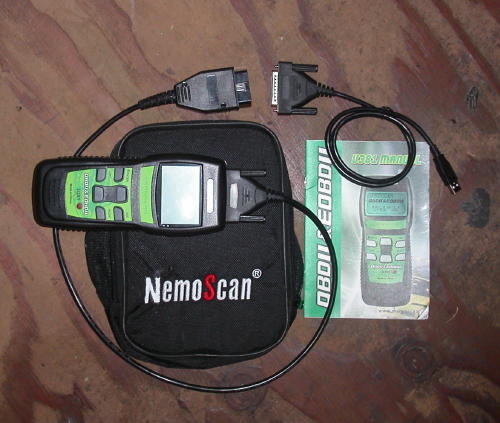 <![endif]>
Auto Diagnostic Tool: Vulcania-style.
<![if !vml]>
<![endif]> 
Philosophy 101
© All images copyright 2005, 2006, 2007, 2008 by Pat Regan, "All rights reserved."